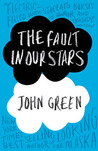 The Fault in Our Stars by John Green
My rating: 4 of 5 stars
It's commendable how John Green keeps his teen tragedy moving right along, given that so much of the action is just suffering kids sitting in rooms. The Fault in Our Stars could easily have settled into stationary dreariness and still come out meaningful. The characters are all somewhere between likable and very likable (with one engrossing exception). They are all suffering from cancer or attached to someone who is sick. Feeling meaningful is a pretty wide target to hit with that setup.

Yet, from early on I found myself genuinely interested in Hazel, the protagonist, and her supporting cast. In particular, I was taken in by how the ailing youths wield cynicism. Most of the time, practiced as they are from chronic/terminal illness, they do so deftly--not with abandon. Sickness has forced them to grow up quick. Like seasoned adults, they pick their moments. The resulting dilemmas make for compelling scenework.

The Fault in Our Stars did move me to sniffle and tear up. If I had not been reading in public, I would have let myself sob as I read some of the later chapters. This is well-crafted, accessible, and meaningful fiction. The ending, which goes nowhere new and wallows somewhat, felt belabored to me. Yet, like the rest of the novel, it felt earned. Thanks to John Green, I will be giving young adult fiction the time of day going forward.
View all my reviews